Thank You for 1 Billion Todoist Tasks
Countless accomplishments by the remarkable Todoist community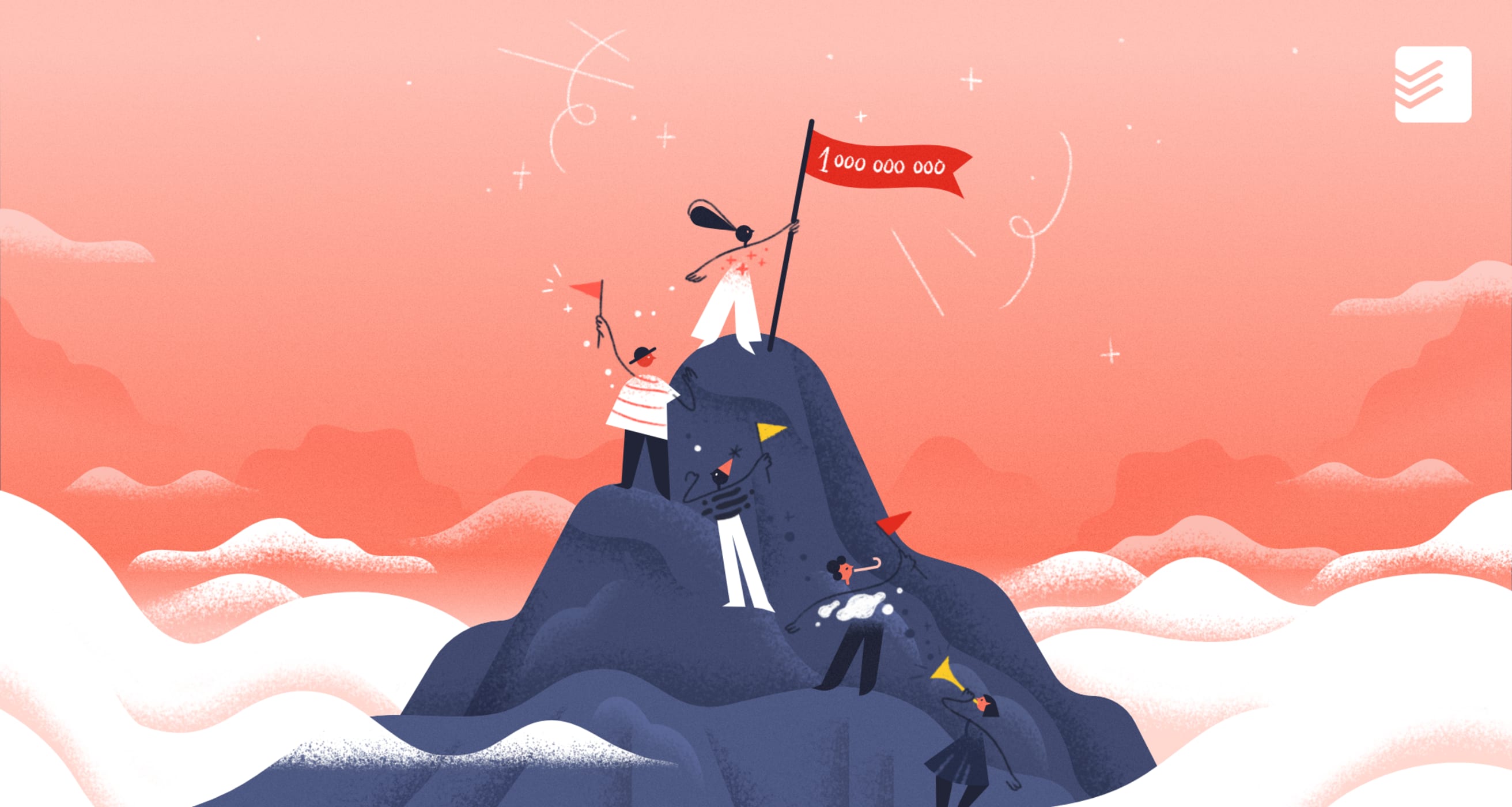 We started building Todoist over eleven years ago. What began as our Founder's side project has grown into so much more: a sustainable business powered by 63 people in 27 different countries.
But this isn't a post about listing off our accomplishments or patting ourselves on the back. This is a tribute to what makes us proudest: you.
We're in constant awe of our users and what you all accomplish every day. Most recently, our collective community has reached a milestone worth celebrating: 1,000,000,000 completed tasks. Yeah, that's billion with a B.
Here's a small glimpse into some stats behind what one billion tasks completed looks like:
10, 288, 196 tasks completed in the first seven years of Todoist (2007–2013)
198,705,724 tasks completed on Mondays
212,044,868 tasks completed on weekends
210, 995, 362 tasks completed in 2018 alone
But it's more than just numbers. These 1 billion tasks aren't simply items on a list. It's finishing degrees, starting businesses, writing books, getting in shape, and carving out time for your family, friends, and communities. We're so thankful you've entrusted us to help you do your best work and lead your best life.
Amazing accomplishments, one task at a time
We asked our users about some of the awesome things they've accomplished with a little help from Todoist and were blown away by the responses.
You've spoken about achieving your professional goals.
https://twitter.com/todoist/status/1013799656122396673?ref_src=twsrc%5Etfw%7Ctwcamp%5Etweetembed%7Ctwterm%5E1013799656122396673&ref_url=https%3A%2F%2Fblog.todoist.com/inspiration%2Fmedia%2F11c82b7155aeaf88d931bd05a0471f2f%3FpostId%3Ded58d5d53de0
https://twitter.com/atg_abhishek/status/1013104026022342656?ref_src=twsrc%5Etfw%7Ctwcamp%5Etweetembed%7Ctwterm%5E1013104026022342656&ref_url=https%3A%2F%2Fblog.todoist.com/inspiration%2Fmedia%2F3462a7f37fe58d97d02a11225c3a8456%3FpostId%3Ded58d5d53de0
https://twitter.com/joelschmaling/status/1011703049767669760?ref_src=twsrc%5Etfw%7Ctwcamp%5Etweetembed%7Ctwterm%5E1011703049767669760&ref_url=https%3A%2F%2Fblog.todoist.com/inspiration%2Fmedia%2F2b310ce51c97da1c04b87d3798827051%3FpostId%3Ded58d5d53de0
You've delighted in discussing your educational achievements.
https://twitter.com/number1handle/status/1010402018068873216?ref_src=twsrc%5Etfw%7Ctwcamp%5Etweetembed%7Ctwterm%5E1010402018068873216&ref_url=https%3A%2F%2Fblog.todoist.com/inspiration%2Fmedia%2F5b29a33f519de0f92865b037d6c0762d%3FpostId%3Ded58d5d53de0
You've mentioned carving out time for the important things in life.
https://twitter.com/sjrixon/status/1012695218519326722?ref_src=twsrc%5Etfw%7Ctwcamp%5Etweetembed%7Ctwterm%5E1012695218519326722&ref_url=https%3A%2F%2Fblog.todoist.com/inspiration%2Fmedia%2F343dcdc958ce69514edefc8c8883bd3a%3FpostId%3Ded58d5d53de0
https://twitter.com/Aaronfisk/status/1009259771877183488/photo/1?ref_src=twsrc%5Etfw%7Ctwcamp%5Etweetembed%7Ctwterm%5E1009259771877183488&ref_url=https%3A%2F%2Fblog.todoist.com/inspiration%2Fmedia%2F465328d0357e7a139ebeb8a26d925bfe%3FpostId%3Ded58d5d53de0
https://twitter.com/ChrisKerner89/status/1013467956745994243?ref_src=twsrc%5Etfw%7Ctwcamp%5Etweetembed%7Ctwterm%5E1013467956745994243&ref_url=https%3A%2F%2Fblog.todoist.com/inspiration%2Fmedia%2Fcfdc5ec25d3050fb9d74f5e75a686040%3FpostId%3Ded58d5d53de0
https://twitter.com/MMoxcey/status/1011024165284048896?ref_src=twsrc%5Etfw%7Ctwcamp%5Etweetembed%7Ctwterm%5E1011024165284048896&ref_url=https%3A%2F%2Fblog.todoist.com/inspiration%2Fmedia%2F4c4cf1756fcd64831d95f8c169c14188%3FpostId%3Ded58d5d53de0
Needless to say, we couldn't be more proud of the Todoist community for all the dedication they've shown over the years.
We've provided small gifts to several of our users who shared these accomplishments with us through our #1BillionTasks contest, including 5 lifetime subscriptions of Todoist Premium! We're also giving away 4 prize packs that include a range of gifts from our friends at Philips, Hidrate Spark and Fluidstance. Each prize pack includes a Philips Wake Up Light, a Hidrate Spark 2.0 smart water bottle, and a FluidStance Plane! Please check your email to redeem your prize.
Full List of Winners: Amanda, H., Amit, C., Anna Maria, B., Pedro, V., Leigh, L., Nate, L., Josh, L., Linus, N., Rui, G., Akwasi, O., Raffi, Z., Ramesh, L., Viktor, P., Chin-Chuan (Andy), H., Singaram, S., Mária, N., Yvonne, Meredith, E., Edwin, S. , Shrikant, S., John, T., Pär, A., Maximiliano, C., Kareem, I. , Diogo, W. , Maciej, R., Shanon, S., Samantha, H., Ruud, S., Marc, W., Maxim, D., Michael, R., Uri, K., Ove Kenneth, N. , Meghan, O. , Sunjay, P., Arthur, G., Paige, M., Andrew, M., Paul, G., Pavel, N., Stephan, G. , Gabriel, B. , Will, K. , Shelly, M., Salim, C.. Thomas, B., Tony, F., Ramesh, L., Tyler, A.
Powering incredible organizations
It's not just wonderful individuals who've trusted Todoist with their tasks. It's organizations too. We'd like to share three amazing non-profits who've carried out incredible mandates that truly epitomize the phrase "changing the world". We've donated $1000 to each of them to enable them to continue with their life-changing and important work.
Long Life Shorts
Long Life Shorts is an organization that's brilliantly borrowed the concept of reflective biker vest to to create and distribute neon colored swim trunks for children swimming and playing on beaches in Gambia. This easy to spot swimwear aims to solve preventable drowning and removes an element of danger from frolic and leisure.
Todoist has been an important tool for me since I first came up with the Idea for Long Life Shorts. I wanted to help prevent drowning by distributing ultra visible swim shorts for kids, but I first had to figure out how to design, produce, ship and distribute our bading shorts. These are all things I knew nothing about so I brainstormed using Todoist and then tried to break it down and find the next steps. Today Long Life Short is a non-profit organization and Todoist helps me coordinate partners on three continents. My goal has always been to keep things as simple as possible, but even so there are many people involved and so moving parts. So from capturing ideas to managing my commitments, Todoist is my go-to app.
International Refugee Assistance Project
The International Refugee Assistance Project provides legal assistance to refugees around the world through pro bono partnerships with law schools. As of 2017, they've developed a dedicated network over over 2,000 lawyers and law students who have provided 2,016 refugees, from 21 different countries, with legal representation in their journey to finding resettlement in safe places to call home.
Our team helps refugees exercise their legal and human rights, while also developing and enforcing such rights at the government level. To this end, we use Todoist for individual tasks, collaborative projects, and checklists. Often our work for clients involves periods of waiting, monitoring, and hustling to meet imposed deadlines. Perhaps the most helpful Todoist feature is email integration. Being able to create tasks with due dates from an email allows us to: quickly prioritize our casework, jump from the task to the email to regain the context of the task, and enjoy the peace of mind that we've scheduled our work effectively.
StreetDogs, official animal protection association
StreetDogs, a Portugal-based non-profit, finds, treats, and facilitates responsible adoption of animals in the Municipality of Barcelos. They also provide low-income families with assistance in taking care of their pets. To date, they've facilitated many adoptions and matched great animals with loving homes.
Todoist is an essential tool that helps us remember the various tasks we have on a daily basis: take an animal to the clinic, provide assistance to low-income pet owners, purchase medicines that are running low, connect with potential adopters, etc. It also helps our team plan adoption events so that we can get our animals into their forever homes!
Here's to 1 billion more tasks
We're incredibly proud of the 1 Billions Task milestone. It's eleven years in, but we feel like we're just getting started. We're working diligently to revamp Todoist and create the best user experience possible.
We're grateful to have an active and vocal community who provides feedback on how we can improve the Todoist experience. Rest assured, we're listening. We're building a stronger foundation for Todoist that will allow us take your task experience to new heights. That means a lot of the product features you've been suggesting are in the works: dark mode, better hierarchies and subtasks, and enhanced flexibility with your projects, filters, and labels. We'll keep you updated as these new features see the light.
Until then, we're forever grateful for your support and extend a sincere thank you for using Todoist. It's just the beginning.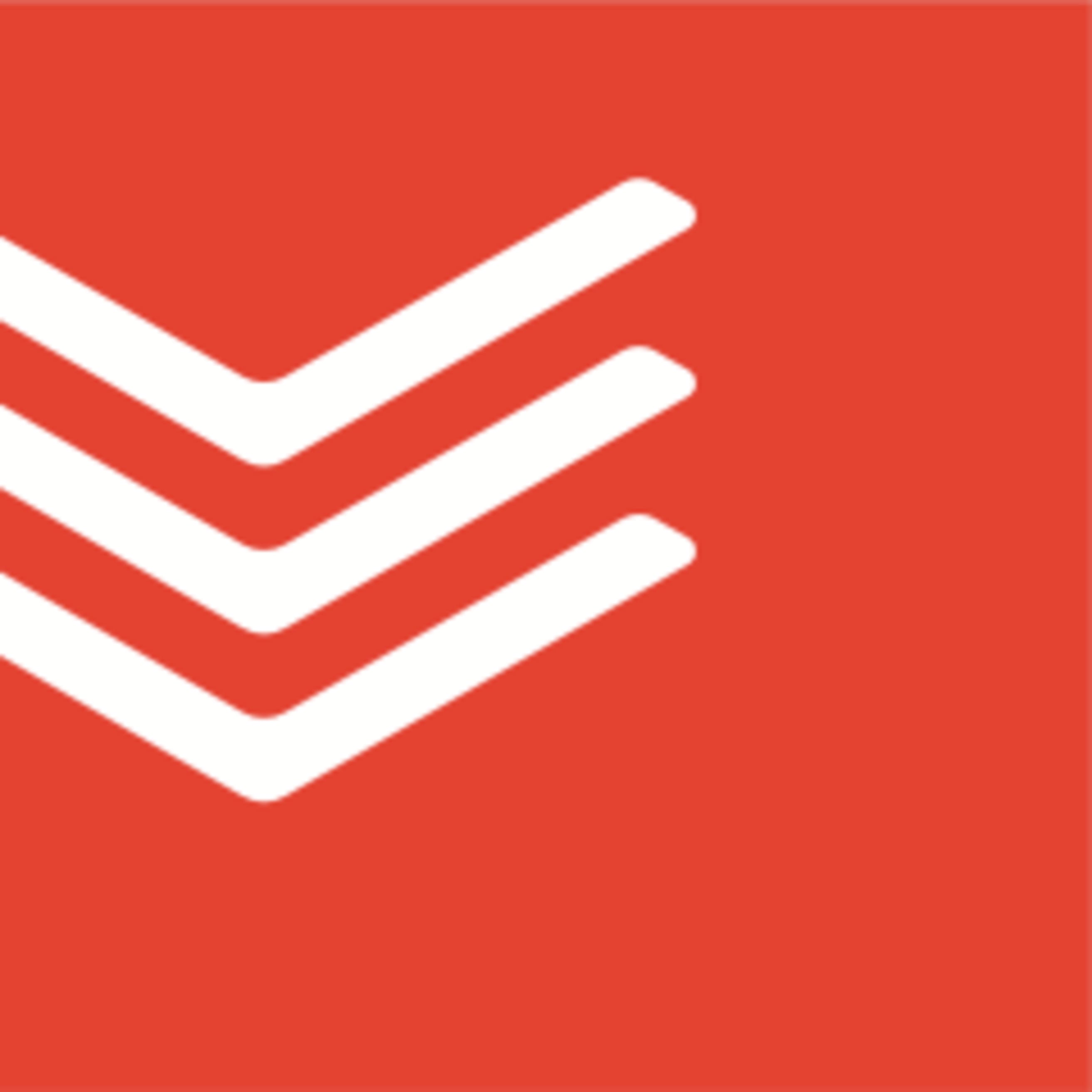 The Todoist Team
Over one billion tasks completed and counting. Organize life, then go enjoy it! Learn more